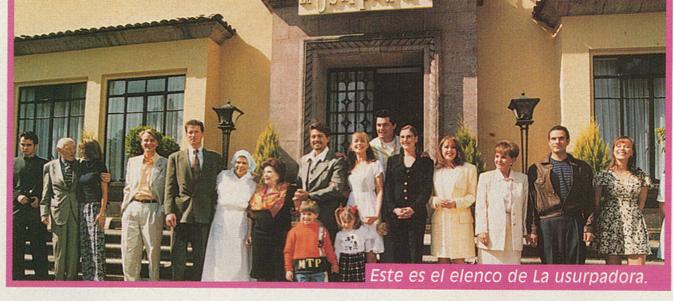 LA USURPADORA STORY

THE STORY

Paulina Martinez is a humble girl who lives with her mother in Cancun. She works in a lady's toilet where she mets Paola Bracho. Paola hates the family of his husband Carlos Daniel Bracho and decides to go away to travel with one of her lovers, the millionaire Alessandro Farina. Then Paola makes the police think that Paulina stole her precious and expensive bracelet and accuses her. When the police are taking Paulina to the jail, Paola offers her to remove the charge if Paulina agrees to change places with her.Their faces and physical is look alike(they are twin sisters but was separated by birth because her mother have to give paola to other family because their life is poor). Paola had taught everthing that paulina need to know and gave her the diary as a reference in case she had a problem. then Paulina went to barchos mansion as Paola Bracho.

Besides her husband, Paola has many lovers: Luciano Alcntara, Alessandro Farina, Willy, Douglas Maldonado, Donato D`Angeli... Paulina is going to live like Paola Bracho for one year. The factory of the Bracho is in bankruptcy, Paulina managed to borrowed 2 million dolars from milionnaire douglas maldonando and saved the factory, cures grandmother Piedad of her alcoholism, cures the son of Carlos Daniel, Carlitos and also change estefania personality from boring woman to beautiful and attractive woman and bring estefania and willy back together. Then her disguise been reveal and everyone knew she is an impostor.when carlos daniel accidently called her real name, she decide to leave the mansion and run away.She afraid that she will get caught.Before she left,she asked Lalita to give carlos Daniel the paola's diary after 2 days she gone so that carlos daniel will know the truth about his wife real attitude.Then lalita gave carlos daniel the diary but before that estefania who found out about the diary took it from her brother's room and tear the part that paola wrote about her relationship with willy and returns it.carlos daniel read the diary and the truth had reveal.he really upset and frustrated and starting to hate paola. Paola Bracho returns to the mansion, but everyone already know that she is the true Paola. Paulina stays in a hotel, until she finds a job as nurse at lourdes home which is also Osvaldo's wife(her ex-boyfriend who left her to married a rich woman). Paola Bracho have fun with Douglas Maldonado and travel all around the world. Douglas discovers that Paola is Noelia, the woman he loved so much. Paola, Douglas and Braulio (the servant) go away to Hawaii. Paulina returns to the mansion of the Bracho but now tells them that she is Paulina Martinez. When they discovered that Paola went away, the Bracho family requests Paulina to remain taking the position of Paola.

Carlitos run away from home,to look for Paulina, thinking that she was his mother. Carlitos had an accident than lost his memory.chabela found him and took him home and together with mojarras, they treat him as her grandson.Paulina had been the main suspect for carlitos missing.then carlitos finally returns to his mansion and one day he falls down the stairs and got his memory back.he told everyone the truth.meanwhile paola discover that braulio did not like her and said to him that douglas will choose her instead of braulio.she then pretends to be sick when she know that douglas already get bored with her.She falls sick and Douglas takes Paola to san lorenzo clinic in mexico. he left her there and paid all the expenses of paola treatment and medication.

Then Gema and Willy make a police report about paulina being as an impostor. The police goes to the Bracho mansion and arrest Paulina, and she admit that she is the impostor. Paulina is taken to the jail. Paulina finds out that Paola is his twin sister and now she takes the fault of everything because she doesn`t want Paola to have any problems, because she is going to die . But Paola is just pretending to be sick, so that Carlos Daniel allows her to return to the mansion.

Viviana and her godmother had make a police report against willy and he had been arrested but out of the jail when the brachos bailed him.
estefania went to see viviana's mother and reminds viviana and her mom to leave her husband and she willing to give them money. but the mother refuse and they have an argument and viv's godmother fall sick....estafania run to her cab(or car i do not remember) because all the neighbours getting angry and yell at her.
willy came home and saw estefania lying on sofa in pain...and she asked willy to take her to the clinic and told what had happen.willy getting angry and want to leave mexico and asked estefania for the money...then willy took her money's in her wallet and leave her...and he said to asked patricia to send est to hospital.patricia arrived and help estefania and send her to hospital.then she inform the brachos..estefania in the operation theater ready to operate...
estefania give birth to a son...patricia said that he looks like willy...est asked whether willy called her or not..patricia try to lie but est knew about it.she said that she will not accept willy anymore unless he changed and find a job....cd busy find paola's diary as the evidence to release paulina and cannot found it...everyone search for it..and cannot find it anywhere...everyone thought it was lalita who took it...abuela piedad said there are only 3 person who will took it paulina,paola or estefania..
cd when to see paulina...paulina admit she took the diary...and will not tell him where she put it, she said she hide it at the safe place where no one can finds it...cd left...paulina pray that cd will not find the diary(the diary will be send to edmundo)...
before that cd getting angry with paola and treat her roughly and whatever it takes he will never ever let paola come back to his mansion...veronica give back the engagement ring to leandro..they breakup...she said that it no use that they still together coz in leandro's heart is always be viviana...rodrigo asked leandro to persuade veronica but leandro refuse and said that all she said is true.
that's the important part...edmundo met paulina and cd at san lorenzo clinica...and he met paola..he inform that paulina trial will be in one week...
as usual cd will not agree with paola conditions to let her back to bracho's home....paulina as usual still naive..eventhough she already saw the real paola in front of her eyes she still think that paola reaction because she was sick...

Meanwhile luciano had read about the trial in newspaper and decide to testify against paola.he told his wife that he wants to help paulina.luciano went to the bracho's factory and met rodrigo and carlos daniel.he convinced them that he had changed and be gald to help paulina because he is the main witness when paola and paulina make the agreement.edmundo had told gema about luciano and gema hates it so mucj and she went to the hotel where luciano's lived and offered him the money to keep his mouth shut.leandro is going to married viviana and quit his job at the factory and decide to leave mexico. willy come back and asked estefania to give him some money or he will give his testify against paulina.estefania refuse and said she also will do the same thing so that everyone will know his affair with paola.


By the way ,Paulina can be sentenced to 15 years for the usurpation of personality if she was find guilty. Paola is " recovering" and can wait to go on the trial of Paulina within one week, where the she had make a plan that she will accused paulina threats her to death if she doesn't agree with her to change places.she want to testify that paulina is very jealous of her beautiful and her life.Then the trial begins, Carlitos is the first witness that give testify. Paola goes to the trial. Paulina is transferred from the jail to the court. Paola Bracho arrives on the trial with Elvira, her nurse. Paola is called as witness so she relates with lies everything what happened in Cancun more than a year ago. Paola declares that Paulina forced her to change personality, and that if she didn't accept it, she told her that she is going to kill her.

Soon Edmundo Serrano, the lawyer of Paulina asks Paola with whom she was in Monaco when she suffered the accident. Paola pretends to feel bad not to respond. The judge orders that Paola goes back to the clinic. Paola puts the entire fault to Paulina. Paulina Martnez declares culprit of everything, until of being the usurper. Paola infuriates to the knowledge that all their secrets will be revealed during the trial. Soon, Carlos Daniel finds out that Paola and Willy were lovers, in his own house. Paola returns to the Bracho house, with Elvira. She makes the life heavy to all the family. Soon, Paola and Elvira have a car accident and they die. Paulina feels remorse and blames herself for the accident. She refuses the love of Carlos Daniel and decides to marry with Edmundo Serrano. But the day of her wedding Paulina realizes that she can love just Carlos Daniel and soon they marry.